AAIS: Building an Interactive Insurance Product Development & Delivery Platform on the Data Lake
by Michael Hiskey | July 12, 2018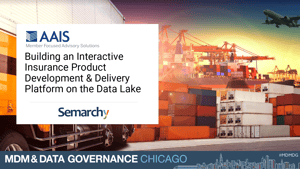 Recently at the Master Data Management and Data Governance Summit in Chicago, Joe Wilhelmy, Director of Engineering of AAIS, and Michael Hiskey, CMO of Semarchy, gave a keynote presentation on how AAIS built their insurance product development and delivery platform on the data lake, and the benefits that it brought their business.
The Data Lake is the to-be model for modern data management. But left unchecked, governance, quality and reference data can get out of control. AAIS employed the xDM Intelligent Data Hub from Semarchy to curate and pair information from the data lake with product information empowering business users to own and govern the mastering process.
The American Association of Insurance Services (AAIS) serves the P&C insurance industry as the only national not-for-profit advisory organization wholly owned by its member companies. AAIS delivers tailored advisory solutions including top-shelf policy forms, rating information and data management capabilities.
This modern data management platform has allowed AAIS to reduce affiliate implementation times by over 85%, due to flexible data hub structures leveraging APIs and customizable data integration formats. Overcoming obstacles with a cloud-based Hadoop-centric Data Lake in a highly regulated environment.
As Conference Chairman Aaron Zornes explained in the Summit Keynote, your career investment in the MDM and Information Governance space is a good one – the market is strong and growing with new investment arriving from all sides
At the same time, our part of the Enterprise Information Management market wasn't left unscathed by the Big Data Revolution of a few years ago – the Data Landscape is forever changed, and the conventional enterprise data warehouses and big bang price per TB database schemes won't last.
That said, the well-paid, yet hard-to-find Data Scientists, burgeoning data wranglers and business analytics Technorati have come around to understand that no matter what or how they store volumes of data, it needs to be governed, mastered, and trusted to be valuable.
So that comes full circle – to what the MDM/DG Summit audience have known all along.
Joe Wilhelmy, Director of data Engineering for AAIS knew it, too. He's also a big data guy – and came to The American Association of Insurance Services with a vision to change the "old skool" relational data warehouse thinking--- modernizing the infrastructure with a Hadoop and using the Data Lake concept.
Many consider this is the "to be" infrastructure that organizations will strive for over the next few years. Joe managed to accomplish this in an industry not known for taking risks – but calculating them, in a heavily regulated environment that mandates auditability at every step.
Unfortunately, everything you know about conventional MDM, RDM and DG would NOT have worked at AAIS:
Most MDM solutions are re-tooled from legacy customer solutions, or legacy product ones with "multi-domain" ism retrofitted to modernize
Governance & RDM projects feel good to us as data people, but they often don't show meaningful business value in a reasonable time frame – IF at all
And while we get business sponsors on board at the beginning (hopefully), if it takes a year and costs $1M to get something up and running, they've already moved on to the next thing, having solved with make-do solutions
Part of the problem has been created by the vendors in the space – who have done a disservice by segmenting corners of the market – and majoring on parts of the requirements. Today, Data Catalogs, metadata management and governance-specific tools perform parts of this. Cobbling these together takes time and energy and pushes out your ROI horizon.
The Intelligent Data Hub concept, as you will see in Joe's presentation below, is about solving for all these things in parallel. This way, the jargon of multi-vector, hybrid implementation styles, and technical details like graph databases drop away – and the focus is on empowering anyone to curate and steward data – crossing the boundaries between these disciplines and optimizing for business value
Attendees learned:
How to effectively marry MDM, RDM, and Governance from a Data Hub with a scalable enterprise Data Lake
How to overcome challenges from home-grown and legacy systems that need to be maintained alongside and integrated with new platforms
How to refine the process of communicating data intelligence across the organization with a highly-configurable interface that supports demanding business users
Download the slides by clicking on the button below:
Learn More: