CMA CGM: Building an all-in-one geo-referencial data hub for customers, vessels, and suppliers.
by Semarchy | May 15, 2018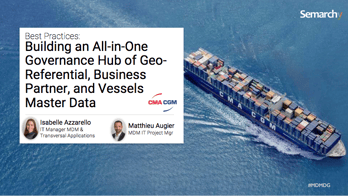 CMA CGM is a leading worldwide shipping group operates a fleet of 504 vessels, serving over 420 of the world's 521 commercial ports through more than 200 shipping lines. Founded in 1978, today CMA CGM is present in over 160 countries, with more than 30,000 employees. This global shipping leader was able to transport a volume of 18.95 million containers last year.
Pulling together a cross-functional team, CMA CGM needed a single multi-domain platform that could govern data for customers, vessels, and suppliers with a strong master data paradigm and end-to-end workflow management. A top-to-bottom SAP environment, they had to look for a solution that would leverage the value of that investment; at the same time, a conventional master data governance solution was inadequate for their needs around agility, fast time to value, and complex workflows.
CMA CGM built an operational system for thousands of users all over the world with the Semarchy xDM Data Hub. Linking legacy internal and SAP systems, it is a single, cost-efficient platform for data stewards to provide shared services across shipping, finance, and user interfaces. The 24/7 "always on" system is a critical tool in the invoicing system, housing sensitive, regulated data that needs to be validated with tight SLAs.
This presentation covers:
Guidelines for selecting, implementing and integrating agile Data Hubs that include MDM, Governance and Application Data Management capabilities

How to overcome challenges from home-grown and legacy systems that need to be maintained alongside and integrated with new platforms

Why cross-functional teams that can connect IT and Business processes can deliver faster ROI and higher customer satisfaction
Download the slides by clicking on the button below:
Read more about how CMA CGM utilizes the Intelligent Data Hub for a geo-referencial hub for customers, vessels, and suppliers: