At Semarchy, we believe that building a Master Data Management initiative should be simple, fast and fun!
So in Semarchy Convergence for MDM v3.0, released today, we have introduced many new capabilities that expand your ability to manage master and reference data. This release includes a simplified user experience supporting mobile devices, greater control over visual composition for data forms as well enhancements to the data models. Here are the highlights of what's coming in this release.
Redesigned User Experience
The user experience in MDM applications has been redesigned in this version from the ground up, to make it more intuitive for business users.
By implementing principles such as click-vertizing (only show available actions), single-click and responsive design, we have made this interface simpler to use on every device. We added dozens of enhancements, including navigation breadcrumbs and a new search window. We ensure that you have all the power of the platform at your fingertips.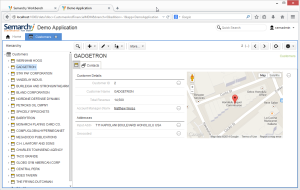 Embedded Dashboards – Powered by Convergence Pulse
Pulse Metrics dashboards are now automatically embedded in the applications generated for business users and data stewards. MDM users and data stewards can now access Data Quality, Duplicates, Timeline and Workflow Performance dashboards right from their application.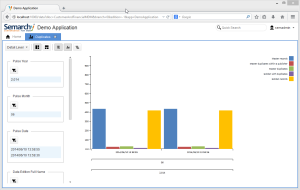 Faster & Nicer Application Design
This release enables application designers to deliver highly customized MDM applications.
Application designers can now choose the available features (dashboards, lineage, etc.) for the applications, and limit the access to these applications and their features to specified roles.
Form views now support flow and grid layouts to quickly create simple forms or highly complex ones, using a visual composition editor. You can now choose the exact position, sizing, and more, for each attribute and section in a form. Attributes in these forms benefit for a rich palette of display components. You can design forms that will look good on desktop and mobile platforms, without a line of code.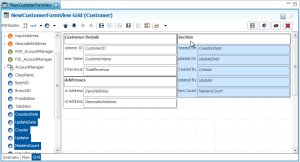 Business object views are enhanced to support customized labels, display names and sort in the hierarchy. You can also explicitly design the reference navigation and selection in business object views.
New and Updated Plug-ins
New built-in plug-ins are added to the platform, including:
Person Name enricher to extract the given name, surname and gender from a person full name,
Google Translate enricher to automatically translate text for 80 languages,
Phone Extractor enricher to retrieve the phone numbers from any text,
OpenStreetMap enricher plugin for address enrichment,
Email Validator to check syntactic and domain validity of emails.
And More...
Many more features have been added to this release, for designers, end-users and administrators. These include parent/child entities access in validators and enrichers, reference picker filtering, schema deletion for data locations, killing integration job, etc.
Last but not least, we have also dramatically improved our performances and made the data certification process up to 10 times faster on very large volumes.
Needless to say, Convergence for MDM v3.0 is a major release.
It is available today, and downloadable for our customers and all those who want to try Evolutionary MDM.
Semarchy Convergence for MDM™ 3.0 introduces many new capabilities that expand your ability to manage master and reference data. This webinar will provide an overview and demonstrations of some of these key features.