CSI: Data Governance at PIMCO
by Semarchy | June 12, 2018
Or, what we learned on the way to CRM
In a perfect world, governance is approached at the onset; the data warehouse is only fed well-mastered data; reporting runs seamlessly from the warehouse; data is pre-prepped before going through ETL, to have all the right attributes; and all of this is consumed in the platform of choice that edge-users are accustomed to, such as their CRM or BI tools.
CSI, or the CRM Strategic Initiative at PIMCO was able to do just that.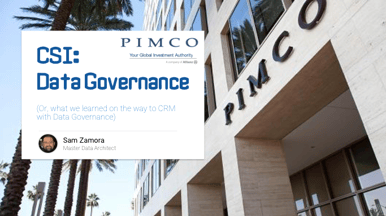 This is the system that Sam Zamora was able to build at PIMCO, to master their contact, organization, and client office detail along with product, location and reference data, wrapped up with a bit of intelligent algorithms and batch processes to build an elegant solution. In this best practices session, Sam will detail his experiences work with the xDM Intelligent Data Hub from Semarchy to solve for governance, quality, enrichment and MDM in parallel.
Attendees learned:
How to get business execs on board for seemingly "boring" data projects
How to make MDM & Data Governance invisible, and at the same time ever-present
How to need to get your data situated in such a way as to take advantage of recent advances in data science, machine learning, etc.
Download the Slides
Click on the button below to download the presentation slides.