Solita & Semarchy Partner at the Data 2020 Summit, Stockholm
by Rich Branch | September 13, 2018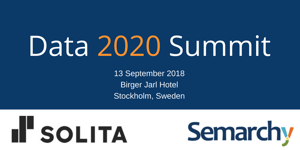 Recently at the Data 2020 Summit in Stockholm, Anssi Tikka, International Sales Leader at Solita, and Richard Branch, VP and General Manager of Semarchy Ltd., gave a presentation on accelerating data-driven innovation with quality and governance.
Thinking of data quality, governance, master and reference data in silos only serves to perpetuate the silos of information that data-driven projects seek to address. Sharing best practices and lessons learned from dozens of engagements, this session will address the intelligent extension of agile methodologies as well as the material design concept employed by firms like Google to address these capabilities in parallel.
Attendees learned:
Best practices for getting value out of data projects faster, with smaller development and operating costs, fewer errors and measurable ROI.
The latest thinking on cloud-based infrastructures for data warehouse and data hub applications (hint: it's not about the cloud)
Tips for improving an organization's data capability with applications that enable non-technical users to steward and curate data with which they have the highest context
Download the slides by clicking on the button below:
Click here for more information about the partnership between Solita and Semarchy in the Nordics.