Client Advisory Board - France June 2018
by Michael Hiskey | July 06, 2018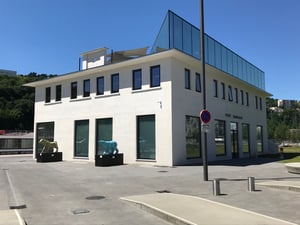 Semarchy was founded in Lyon, France - and we were pleased to host our first French Client Advisory Board Meeting there on 26 June 2018. Over 50 Semarchy Enthusiasts, representing more than 30 organizations took part in an active discussion. This meeting took place at Port Rambaud, a new venue for corporate events created in the former harbor master's office the Saône River port in Lyon.
It was a warm, sunny day in Lyon and the venue complemented the energy from the people there!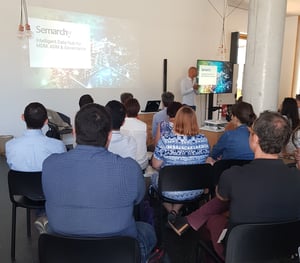 The day began with a presentation by Salah Kamel, Semarchy CEO and founder. He shared his Vision of the trends going on in data mangement, and where the team is investing in our expansion of MDM and Data Governance, detailing how the Intelligent Data Hub strategy and our xDM platform is aimed to meet those needs.
It continued with a presentation by FX Nicolas, Semarchy VP Products, on the one hand from the evolution of the Semarchy Platform from earliest product version 1.3 to the current version 4.4, and on the other hand from the sheet of future developments, including the new Semarchy xDM Dashboard component available soon.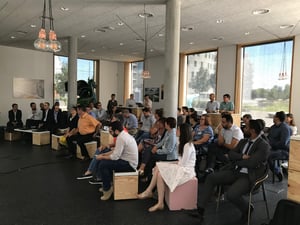 The feature exchange workshop was one of the highlights of the day, allowing users to confirm and challenge directions in the roadmap, while expressing their requests for improvement, on which the development team was able to make immediate returns.
The afternoon began with two French clients talking about their implementations of xDM. First, WEKA Group talked about their Customer Master Solution, which addresses GDPR at the European conglomerate. Next, Somfy, who is a leader in automated controls for smart homes and commercial buildings, talked about their use of xDM to master and govern product data across their enterprise, which operates in 58 countries. The attendees asked questions, and enjoyed hearing more about both successful projects.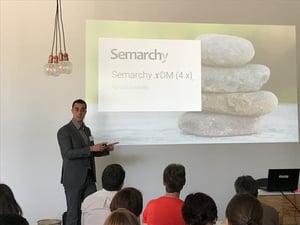 The day continued with a presentation by the Customer Success team of the new support portal, and its new knowledge base, an endless source of technical information.
Before we closed, we had an overview of the key features of Semarchy xDM version 4.
The global Semarchy team would like to thank the clients who travelled from all over France to attend this meeting. Plans are in the works for similar Client Advisory Board meetings in the UK and US in 2018.
Learn more about the advisory board membership from your Semarchy Representative or Client Success Team Member. You can also find the summary of the meeting in French on our blog!