342 Things in the next 12 months: Gartner Data & Analytics UK
by Michael Hiskey | March 26, 2017
Gartner Data & Analytics Summit Sessions: By and Beyond the Numbers
For the geeknorati, 42 carries almost mystical significance. The world has evolved though, since it was first suggested that '42' was the answer to "life, the universe and everything." So add 300 to that, and you've got the complete set of Gartner Analysts' Recommendations of what you need to do as a Data & Analytics Leader (or perhaps even as a CDO) over the next year.

Gartner Data & Analytics Keynote as an Infographic.
So add 300 to that, and you've got the complete set of Gartner Analysts' Recommendations of what you need to do as a Data & Analytics Leader (or perhaps even as a CDO) over the next year. Taking every recommendation made available to you at the Gartner Data and Analytics Summit – you've got 342 more things to accomplish.
| Recommendations: do this on Monday Morning | Accomplish over the next 90 Days |
| --- | --- |
| 36 | 44 |
| Accomplish in the Next Year / General Recommendations | Recommended Further Reading |
| --- | --- |
| 262 | 380 |
The European version of the Summit concluded last week in London. As one of the lucky ones who:*Based on the materials available from downloadable session documentation from the UK event
Gets to attend these thought-leadership conferences, and

Goes to more than one in the same year (see my blog on the US Event)

Does my best to pay attention in the analyst session for clues to their thinking
The repeated content (my guess is ~95% similar) between the two events gives you the chance to draw some more deeply nuanced thoughts on the proceedings. It's nice to know you can option efficiently between repeated sessions when you can catch the replay, albeit maximised with British spellings. (As I often say, they invented the language, we Americans perfected it!).
I'll comment on more of the cultural and sensory differences between the US and European (UK) events in another blog – today I'm digging into some non-scientific study of the sessions themselves.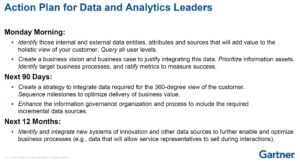 In fairness, even if you want to all 7 Data & Analytics Summits (Australia, US, Euro-UK, Tokyo, Mumbai, Brazil, Euro-Germany) it would be a stretch to make each and every session. It's also dubious that they would all be relevant to you, as even if you're a very involved Chief Data Officer, you'd be digging far down into the weeds on some of them.
As discussed in my last blog the content favors analytics; at the same time, sessions like Doug Laney's and Svetlana Sicular's, who talked about broad-reaching issues relevant to information governance across the burgeoning data lake in any large organization would have been at home in either the BI/Analytics or MDM/Enterprise Information Summits of old (okay, of last year).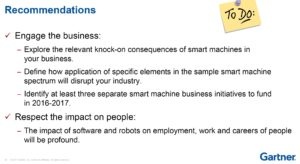 Some sessions ended with more general recommendations.
The structure of most presentations follows a clear format. The presentation starts with a big idea, and then breaks down 2-3 questions or key ideas to be discussed. The conclusion of each session often contains recommendations and another on recommended further reading, mostly analyst reports available to Gartner clients. 22 of the 67 sessions whose documentation can be found with the materials received as an attendee included more sequential recommendations – in a style we have enjoyed in the past from Gartner…. What do to when you go back to work on Monday (36 items), What to accomplish in the next 90 days (44 total items), and what you should have in place for your organization in the next year. Lumping the "within 12 months" and general recommendations together, there are 262 in total!
Personally, I enjoy the later – and I imagine most practitioners do as well, provided they don't see analyst advice as obtrusive. Side note – if you are attending this conference you likely do not see analyst advice as obtrusive. Important note – my data is probably only 95% accurate, and based purely on the available session documentation. This blog was written bleary-eyed and jet-lagged from globe-trotting Gartner Summits and the busy life as the father of a newborn baby!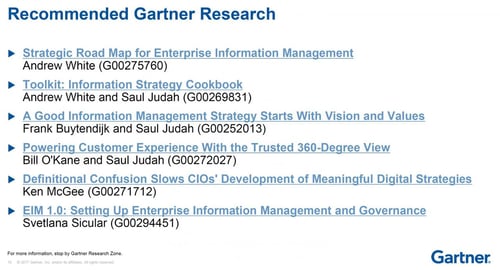 Analyst Sessions have good uniformity of these representations, with some charts like the Dimensions of Enterprise Information Management/Master Data Management. Other favourites (note spelling) like the ones used by Andrew White, Bill O'Kane and Simon Walker, that describe Information Governance give the audience a sense of where they are and how the many topics across the Summit correlate.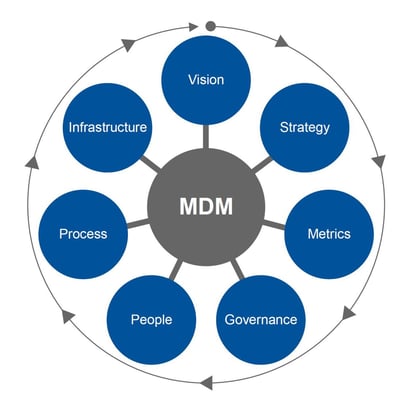 How many of the attendees, be they Data Stewards in the business line, or IT leaders for BI, Analytics or MDM projects will take the steps outlined, at least for the sessions they attended? As Guest speaker Nigel Risner said, "if you're in the room, be in the room!" (Tweet via Alan Duncan). So much information is coming out so fast, with graphical representations of new paradigms and classifications based on Gartner practices (or lore), paying attention is a full-time sport.
Gartner surveys the audience, and is extremely data-driven in their analysis. Michael Moran was kind enough to explain the tagging process to me. Every interaction a vendor or end user has with Research staff is tagged… much like this blog could be tagged "Gartner," "Analysts," "MDM," "CMO" and "Pontificating dullard," they would know the content in each interaction. A conversation about Intelligent MDM and Semarchy, for example, would be tagged "MDM", "Semarchy," "Machine Learning," "Vendor Inquiry," and so on. This gives them a tremendous body of information to correlate on what's happening in each area – even if only through the sheer connection of these tags.
That said, will they survey the audience to see how many of them took their advice today – Monday, 27 March 2017 – THE Monday after Summit? What about 90 days hence – what percent of the maverick business-savvy IT and IT-savvy business folks will have heeded the not-inexpensive (Attendee passes were over $3k) advice they were given?
An informal analysis conducted by my team and several colleagues looked at Gartner Summits (both BI/Analytics & EI/MDM) attendees over the past five years or so. It was interesting to see the many occurrences where the same individual was attending – but their title and company had changed (presumably for the better on both counts). Therefore, might I submit – those that pay attention in class are getting the farthest ahead in their data and analytics journey? And further posit that it has helped their own careers?
DISCLAIMER: The data I reference here is not peer reviewed, empirically correct, or statistically accurate. So take it this way – strong circumstantial evidence suggests that those who get their minds around what they should have at those Monday, 90 day, and one year intervals—are the ones who will be the guest speakers in years to come, sharing their best practices with us.
Life will get in the way of those 36 things you need to accomplish today. Don't let it happen. Your rewards as a Data & Analytics Champion await!