Good Data Governance is Good Regulatory Compliance
by Michael Hiskey | September 20, 2017
[Web Briefing]
"An ounce of prevention is worth a pound of cure ."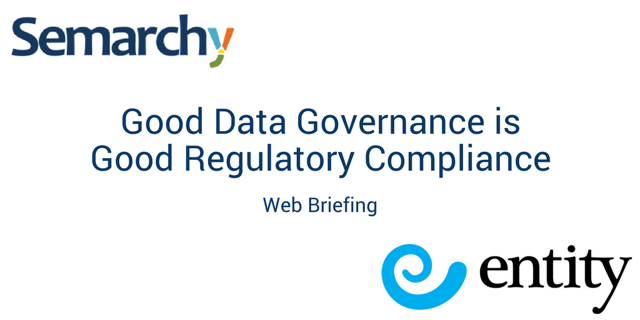 Mundipharma is a unique player in the international pharmaceutical industry. The business operates as a network of over 100 independent associated companies across the world, and these companies work together to develop, manufacture, and sell pharmaceutical ingredients and end-products. While each entity is managed independently, the network shares IT and research capabilities, production facilities, and other core business functions.
Cliff Gibson, Senior Enterprise IT Architect at Mundipharma IT Services, recently led a Web Briefing, organized by Semarchy and our partner, Entity Group. Entity worked closely with Mundipharma through their data governance, quality, and master data management project to build a collaborative solution using xDM that stretches across multiple domains, business units, and regions.
In this web briefing, Mundipharma discussed their path to build a solution to improve data quality, consistency, currency and create a collaborative master data governance solution that could span across all of the organization's independent operating companies.
Initially, they set out to prepare for IDMP - an ISO standard around the Identification of Medical Products. To do so, they realized a new standard to master and govern data was required. Through the conversation, you'll learn that it turns out having good data governance in place is the key to so many benevolent outcomes that one can expect with data--and one of the largest such benefits is to be prepared for regulatory compliance requirements before they become an urgent matter.
Cliff discussed how by building a collaborative master data governance solution on xDM from Semarchy, they got beyond the "big ticket items" required by IDMP. Serialisation, new product development, and safety labeling were instant beneficiaries of the mastered data, with potentially huge savings of budget and man-hours.
While individual business units still have preferred reporting structures requiring varying levels of data aggregation, the mastered data that is governed and clean gives each of them the satisfaction of knowing they have trusted data on which to base business decisions.

This led to a discussion about GDPR, the General Data Protection Regulation, set to go into effect in May 2018 across the UK and European Union. As you will see, having good data governance in place put Mundipharma far ahead in their ability to address GDPR--leading to a key learning of the web briefing. Having good data governance in place, while often hard to measure from the outset, yields tremendous business benefits.
Semarchy and Entity Group, who also shared best practices learned from the Mundipharma experience, talked about their work to ensure measurable Return on Investment (ROI) is obtained from every MDM and Data Governance project.

More about the Mundipharma Web Briefing - in the News