Semarchy Convergence™ Platform 2.0 brings a rich set of features making data governance and master data management easier.
Row-level and Attribute-level Policies for Secured Access
With Semarchy Convergence™ Platform 2.0, you can enforce security at the attribute-level and also contextually at the row (record) level. This new feature allows defining fine-grained policies to maintain any compliance rule for data access and manipulation in the MDM hub.
Row-Level Security
Define multiple policies for master data entities to address subsets of records.
Contextual Policies
Make policies contextual to a user's session. For example, allow the connected user to see or edit records from his own team, region or country only.
Consistent Policies
Policies are automatically enforced regardless of the entry point. The same rules apply in the generated user interface, through web services and using the Java API.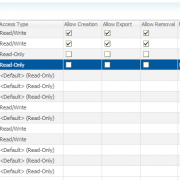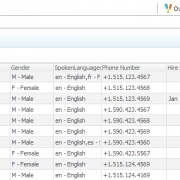 Using Fine-Grained Security
Row-level policies have many applications, including the following:
In a Customer domain, a user can view all customers worldwide, but can only edit customers in his own sales region.

In an HR domain, a user can see the salaries of only those of the employees reporting to him.
---
Rich Data Access Experience
Customize user forms and tables by combining rich content and database records within the same user interface.
Display Types
Select predefined Display Types for attributes and expressions used in forms and tables to layout the appropriate content.
Efficient Data Authoring
Enable content-specific input fields for authoring master data. Single and multi-line fields, checkboxes, date pickers, binaries or images upload, and more!
Rich Data Rendering
URLs can appear as embedded content or links; Binary content, images and rich text content are automatically recognized and rendered accordingly.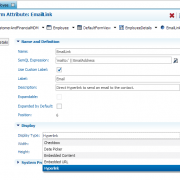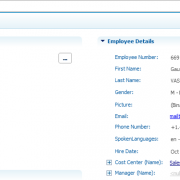 Embed external content, websites, maps, social profiles or data in master data forms.
---
Automated Documentation
Semarchy Convergence™ Platform 2.0 introduces a new feature to generate a documentation set for a model in HTML format.

This documentation set includes the Logical Model documentation for MDM developers and the data governance authorities, Applications documentation for data stewards and business users and the Physical Model documentation for Data Integration developers.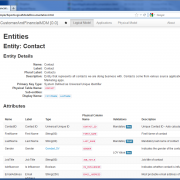 ---
Enterprise and Cloud Scale Deployment
Semarchy Convergence™ Platform 2.0 is ready for enterprise as well as cloud-scale deployment architectures. This new release introduces features enabling extreme scalability with load balancing, high-availability and failover recovery.
Extreme Scalability
Semarchy Convergence™ Platform 2.0 introduces an active/passive architectural design for deploying application clusters enabling the support for thousands of concurrent users accessing the MDM hubs with unbeatable response time.
Extreme Robustness
This new release deploys a unique failover and recovery architecture enabling secured transaction management for data certification jobs.
---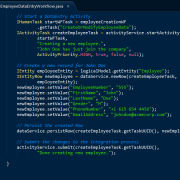 Full Client API
The new client API enables Java developers to seamlessly integrate their applications with the full set of features of the MDM hub. With this new API, any application accessing the MDM can explore the structure (metadata) of the MDM hub, access and manage the data stored in the hub and orchestrate the human workflows as designed in the MDM.