Semarchy Convergence for MDM™ 2.1 introduces new features to make your life easier and empower business users and data stewards to be more productive.
Improved Experience for Data Authoring and Stewardship
Data entry and duplicate management activities are made even simpler in the data editors with:
Reorganized Actions
Data Management actions are now grouped in a single Actions menu. You flag frequently used actions as Quick Actions to make them available in the editor toolbar.
Quick Checkout
You can now quickly select and check out records as you browse them and automatically create the activities to process these records.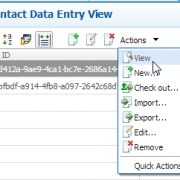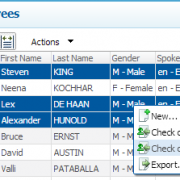 ---
Higher Productivity for Data Entry
Data entry is made more efficient in this release through the following improvements:
Automated ID Generation
Entities Primary Keys (IDs) can now be automatically generated in the data entry forms. The method for generating IDs is configured in the entity definition and may use a sequence or a built-in UUID generator.
Proactive Data Validation
Modified or entered data in the context of data entry activities is now validated within data entry forms. It can also be checked in bulk when completing a workflow task. Using these two features, data authors can pro-actively fix issues that may cause data rejection before saving records and before submitting the data to the hub.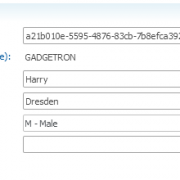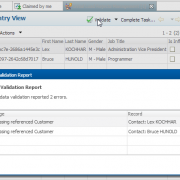 Improved Data Import/Export in Excel and CSV
Ability to rapidly and iteratively load data from files accelerates governance pace and allows mass updates/cleaning in just a few clicks. The import/export feature to extract or import data from the hub in bulk is now enhanced with:
new import and export wizards,
support for CSV files in addition to Microsoft Excel workbooks,
reusable import settings (file format, columns mappings)
and advanced export options to customize the exported files' format.
---
Error Management Workflows
Rejected records and error processing is accelerated as contributions via data entry workflows now include fixing rejected records in addition to authoring or modifying data.
Using this feature, data stewards can address data issues detected in the golden data certification process using regular data manipulation workflows managed in the MDM platform.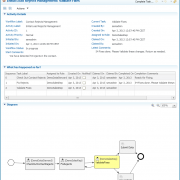 ---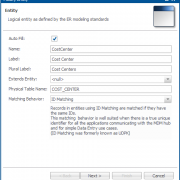 Entity Matching Behavior
Certification process gains even more clarity as entities are now identified by their Matching Behavior, which can be ID Matching or Fuzzy Matching. The new naming convention for entity types replaces the Primary Key Type (SDPK, UDPK).
---
Retention Policies and Scheduled Purges
Preserving the master data lineage and history is a common governance and compliance requirement. You can now describe it in the model in the form of Data Retention Policies. The new automated purges which can be scheduled by production administrators retain data according to these retention policies.