Q & A: John Myers from EMA - MDM, Data Governance and the CDO
by Michael Hiskey | January 23, 2018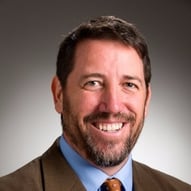 Name: John L Myers
Title: Managing Research Director Business Intelligence and Analytics
Bio: John has nearly 20 years of experience in areas related to business analytics and business intelligence in professional services, sales consulting, product management, industry analysis and research.
He has helped organizations solve their data management problems whether they related to operational platforms such as customer care or billing, or applied analytical applications such as revenue assurance and fraud management.
I recently sat down with
John Myers,
a long time friend and colleague, who is the Managing Research Director at Enterprise Management Associates (EMA). Based in Colorado, John has been taking a keen eye to the data industry for a long time. Having seen trends come and go, we talked about the data management survey his firm is currently focused on, and why the topics around information governance, data quality and master data management have become interesting again.
MH: John, EMA has recently launched a survey focused on trends and directions in data management, with focus on the new role of the Chief Data Officer (CDO) and how topics like MDM and Data Governance rank in terms of successful implementations and maturity. Who is the audience for this survey?
JM:
We are looking to get input from those with visibility into the strategy, implementation and budgets associated with data governance and master data management practices within an organization from both the technology implementation and the business stakeholder perspective. Balancing these two roles, business and technology, is important because both of these groups are critical to the strategic implementation of data governance and MDM.
MH:
What are the goals of the survey?
JM:
The goals of the survey are to understand where organizations are in their implementation of data governance and MDM. In the past, "traditional" DG strategies were very tactical in nature and MDM implementations were often times hamstrung by the implementing technologies. Now there are very different ways of approaching both. We want to uncover those approaches.
MH:
What kind of trends are you looking to uncover?
JM:
With the new rise in importance of the CDO and strategic data governance, and the emergence of new technologies and architectures for implementing MDM, our study is designed to see how many organizations are moving forward with more strategic practices and agile techniques. How they view the success of their efforts…how they look at the failures…and what has contributed to both.
MH:
What survey question are you most excited to get the answer for?
JM:
I would like to see the time associated with the implementation of new domains such as customer, product, etc. and how that contrasts with the amount of time an organization has had an MDM program. For long-tenured organizations, they should have the policies and practices in place to make that happen in short order… but they may be hampered by legacy technologies. For short-tenured organizations, they may have newer technologies, but delayed by a lack of experience along their MDM journey.
MH:
Tell me why it is important to ask trending questions.
JM:
We ran a similar study a few years ago and several core questions are the same. With these comparisons, we can see how far the market has moved over time and evaluate how the adoption of these strategies compare from the previous study to the current one. Are we as a "collective industry" getting better or getting worse at the practices of MDM and data governance.
MH:
What is an interesting thing from the survey? What is an uninteresting thing that the survey might say?
JM:
Excellent question. Many times, end-user surveys tell us EXACTLY what we might think of a particular domain – organizations with strong data governance strategies have better data quality, etc. This provides us with those grounding points that validate our survey results. However, the fun part is when we learn something that doesn't seem so evident such as mature organizations tend to NOT chase the shiny object or buzzword worthy topic and tend to adopt a more measured approach to a domain. In those cases, it is interesting to see where a "novice" company focuses and where a "seasoned veteran" places their resources and efforts.
Up Next: Watch the webinar and read the whitepaper