Semarchy xDM 5.1: Enhanced Intelligent Data Hub™ Platform Experience
by FX Nicolas | September 17, 2019
Semarchy xDM 5.1 introduces xDM Discovery to help organizations onboard new sources in the data governance and data management initiatives.
Discovering data sources is just one of the important steps in any data management project. Subsequent steps that include managing, integrating, and measuring the data impact are equally important, if not mandatory, when building an Intelligent Data Hub™.
Semarchy xDM 5.1 brings great new features to data management and dashboard applications to enhance the experience of designers, business users and data champions throughout their usage of the Intelligent Data Hub™.
Dashboard Drilldown, Actions and Slicers
Charts in xDM Dashboards are enhanced in xDM 5.1 with a new Data Drilldown feature. Users can now click on any shape or measure in a chart and drill-down to the granular data used to compute the aggregated values.
Query Actions are contextually available when granular data is displayed. Such actions can be customized to link to any internal or external application, for example, to display the employee hierarchy view in an xDM Data Management application or to open a Salesforce filtered view to show related opportunities.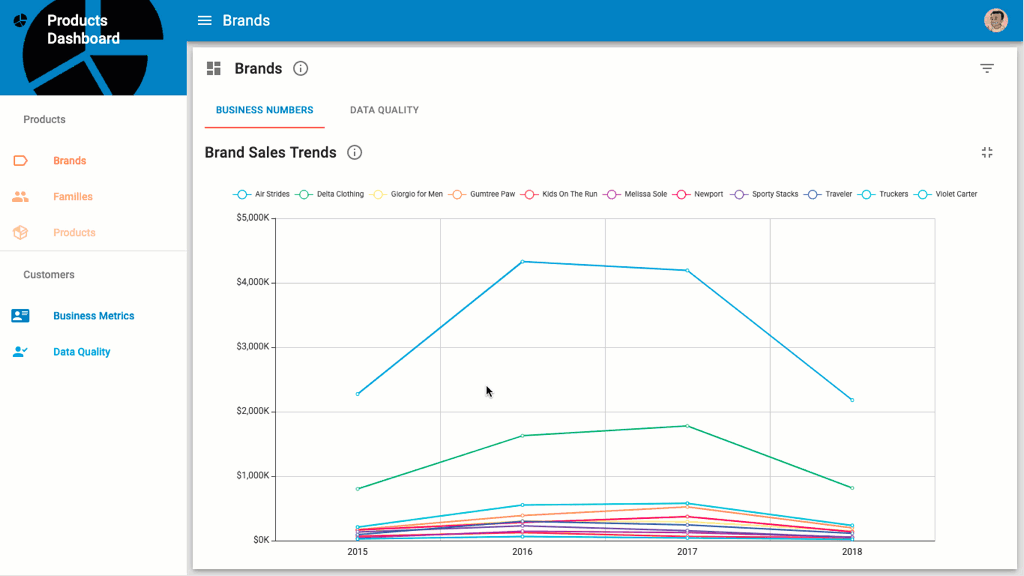 Dashboards are also enhanced with new options for slicing and filtering data. Slicers can now be grouped in the right navigation panel using the new Slicer SideNav feature. They also allow for additional styling options that can emphasize selected values to facilitate business users adoption and enhance their overall experience.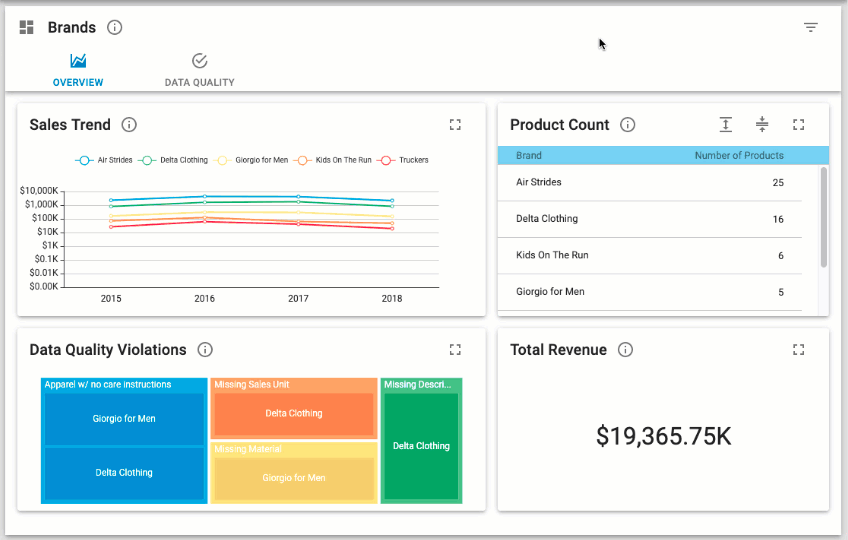 xDM Dashboard Builder is also extended with new features to accelerate dashboard and chart design, such as design-time filters on charts and dashboards.
Applications Enhancements and Mass-Actions
All customizable actions on data application collections have been extended to support Mass Actions on infinite recordsets. Data management and stewardship actions such as data authoring, copy, error fixing, soft/hard delete, duplicate or duplicate suggestions management can be triggered on any number of records. Policies and privileges applying to the records are automatically enforced on these mass actions.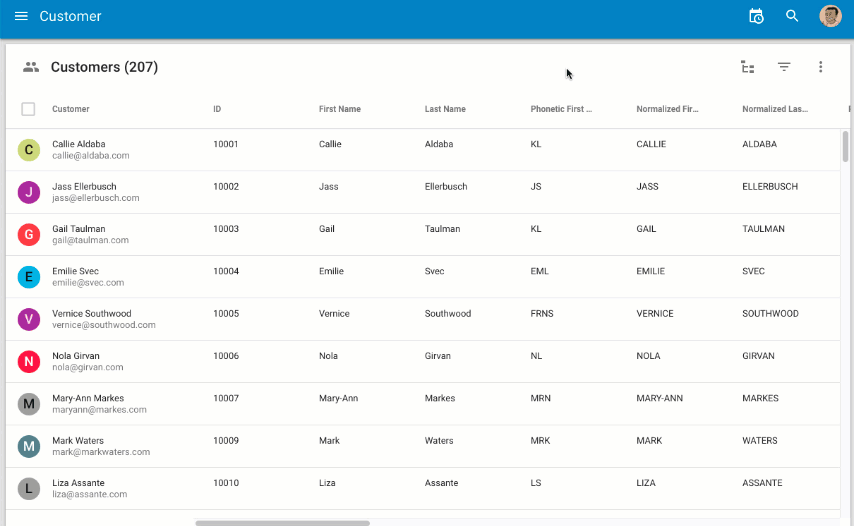 Applications are also enhanced with the following innovations:
Global Search now supports multiple search methods (full-text, form, customized) and views (golden, master, etc) to search into business views via multiple facets.
Designers can hide applications from the welcome page and make them available for a limited number of users.
The Value and Timeline data lineage view is now available when browsing historized data as of date, with better support of consolidated values and overrides.
Import/export now suggests friendlier file names and is enhanced to better support files with a large number of formatting errors.
Automatic User Profile information can now be seeded from any OpenID Connect provider such as Google, OAuth orOkta.
SemQL, Matching and Integration Enhancements
xDM 5.1 improves model design for complex data rules and structures:
A new Lookup Expression in SemQL returns information and aggregated values (min, max, count, concatenation, etc) from child entities.
The Matching Process is enhanced for parent-child reference relationships with configurable re-matching of child records when a parent record is split by a user, as well as single-pass matching for self-references and recursive hierarchies.
xDM 5.1 also includes new capabilities for integration:
API Key authentication: Administrators can provision and manage API Keys in the Semarchy platform with the required privileges, and provide them to application developers for their interactions with Semarchy xDM.
REST API new management endpoints for Dashboard Applications and Custom Translations import/export to accelerate scripted deployment across environments, as well as explanatory error messages and warnings for incorrect requests.
Using these new capabilities, model designers can now support more complex data patterns in data management applications, as well as all integration and deployment models.
Microsoft SQL Server Certification
Semarchy xDM 5.1 has now certified its support for Microsoft SQL Server for both the repository and data locations, installed on premises or in the Cloud. Azure SQL Database is also certified.
What's Next?
To try out all of the great features of Semarchy xDM Release 5.1, install it on premises or in the Cloud.