Extending MDM Beyond Your Organization to Be An Industry-Standard Application
by Michael Hiskey | October 12, 2017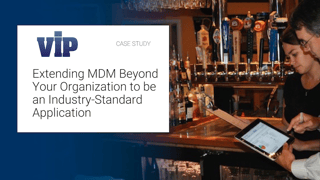 Ever wonder how that delicious fermented beverage gets from the distillery, vineyard or brewery to your table?
Vermont Information Processing (VIP) is a 100% employee-owned company that has been a leader in providing innovative business solutions to the beverage industry for over 40 years. If you think it's hard to get the data definitions, policies, formats, and other standards right across your entire organization, imagine doing it for an entire industry!
VIP tackled these challenges, integrating between partners to proctor attribute standards, define objects and entities, offer easily consumable cloud-based web services, and accommodate multi-tier supply chain requirements for special use cases, like visibility into unreleased product (as well as those limited edition beer cans and your special vintage Merlot)!
VIP tackled these challenges via integrating between supply chain partners to:
Deliver self-service Data Governance to proctor attribute standards plus define objects & entities

Offer easily consumable Cloud-based web services for master & reference data
Accommodate multi-tier supply chain requirements for special use cases such as visibility into unreleased product